News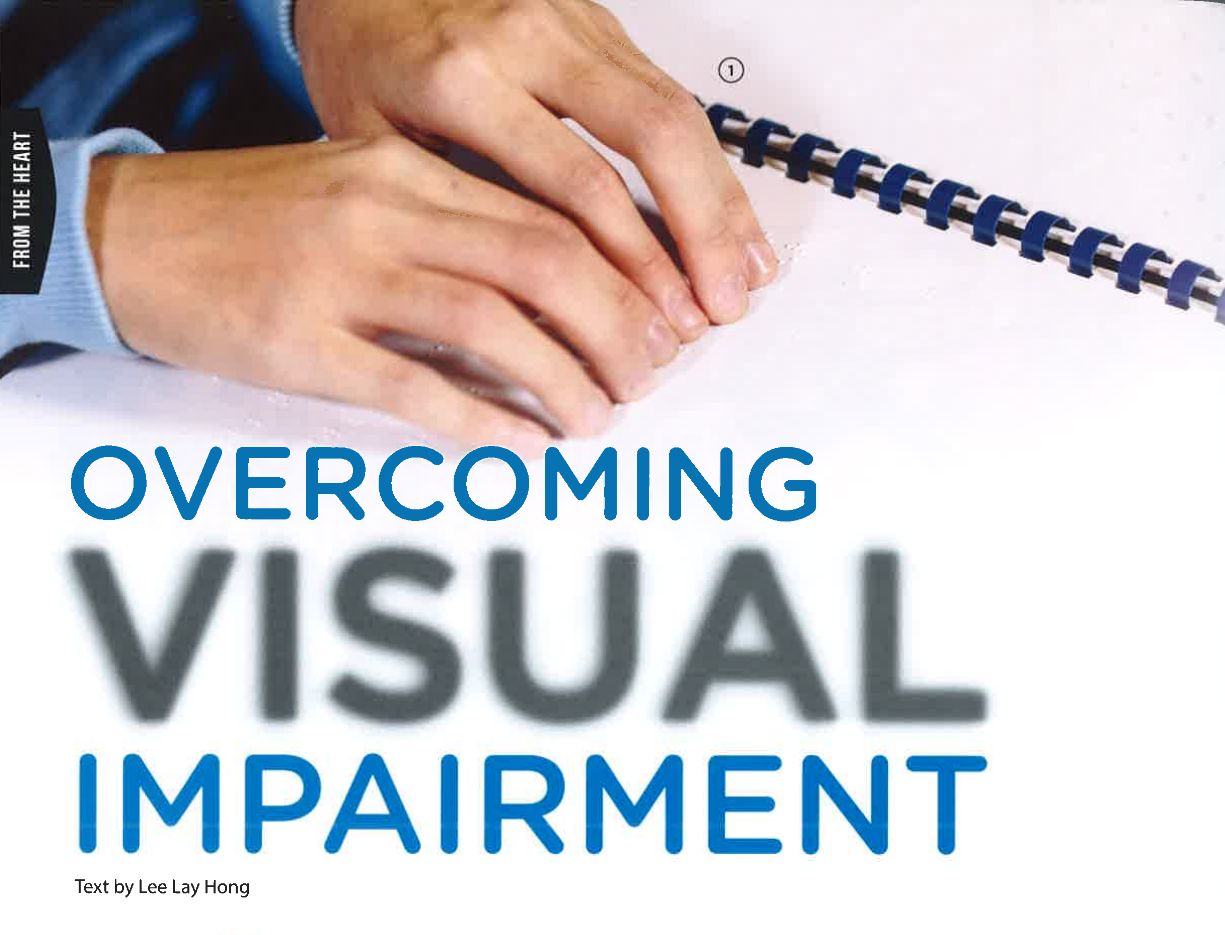 From The Heart
January 29, 2019
When Joshua Babol started losing more of his sight towards the end of his Primary 4 and early Primary 5 days, his family was concerned about how he would be able to continue his education in a mainstream primary school. In 2016, Joshua was diagnosed with Leber hereditary optic neuropathy and referred to iC2 PrepHouse by Adj A/Prof Sharon Tow of the Singapore National Eye Centre.
Download PDF
Singapore Tatler
September 17, 2018
In August, iC2 PrepHouse, a local charity supporting visually-impaired individuals, and SG Enable, an agency working with persons with disabilities, joined forces to co-host The Enabling Fund Gala at the Grand Hyatt Singapore. The evening saw more than $960,000 was raised for iC2 PrepHouse and the Today Enable Fund, with big contributions made through a live auction, where guests eagerly attempted to outbid each other for items such as a wire sculpture by young artist Joshua Tseng, an iC2 PrepHouse beneficiary who has low vision. Prior to this, guest-of-honour emeritus senior minister Goh Chok Tong energised the room with a reminder in line with the evening's "bold" theme, "I urge all Singaporeans, whether with disabilities or not, to boldly pursue your dreams and chase your rainbows." .
Download PDF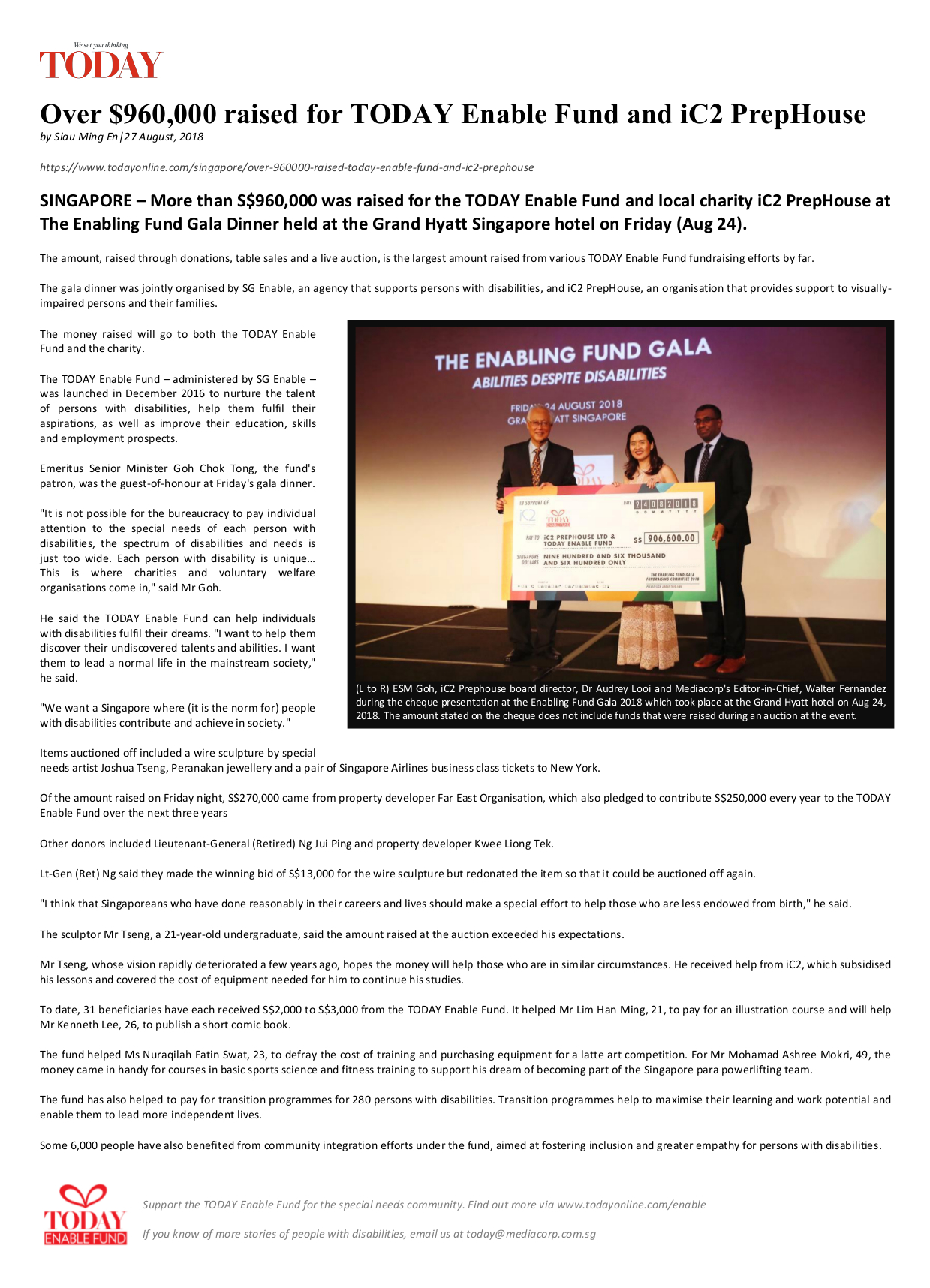 TODAY Online
August 27, 2018
SINGAPORE – More than S$960,000 was raised for the TODAY Enable Fund and local charity iC2 PrepHouse at The Enabling Fund Gala Dinner held at the Grand Hyatt Singapore hotel on Friday (Aug 24).
Download PDF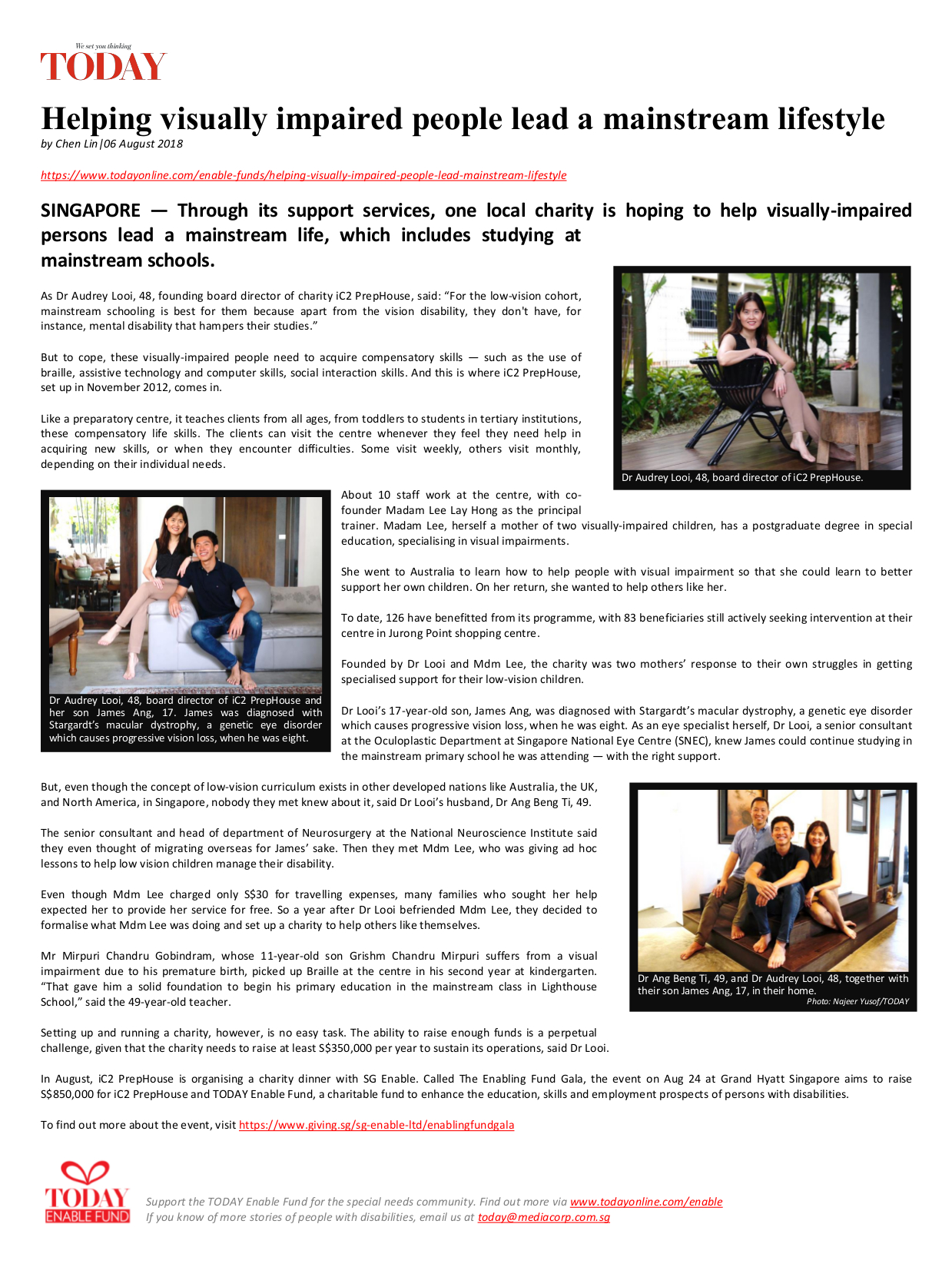 TODAY Online
August 08, 2018
SINGAPORE — Through its support services, one local charity is hoping to help visually-impaired persons lead a mainstream life, which includes studying at mainstream schools. As Dr Audrey Looi, 48, founding board director of charity iC2 PrepHouse, said: "For the low-vision cohort, mainstream schooling is best for them because apart from the vision disability, they don't have, for instance, mental disability that hampers their studies."
Download PDF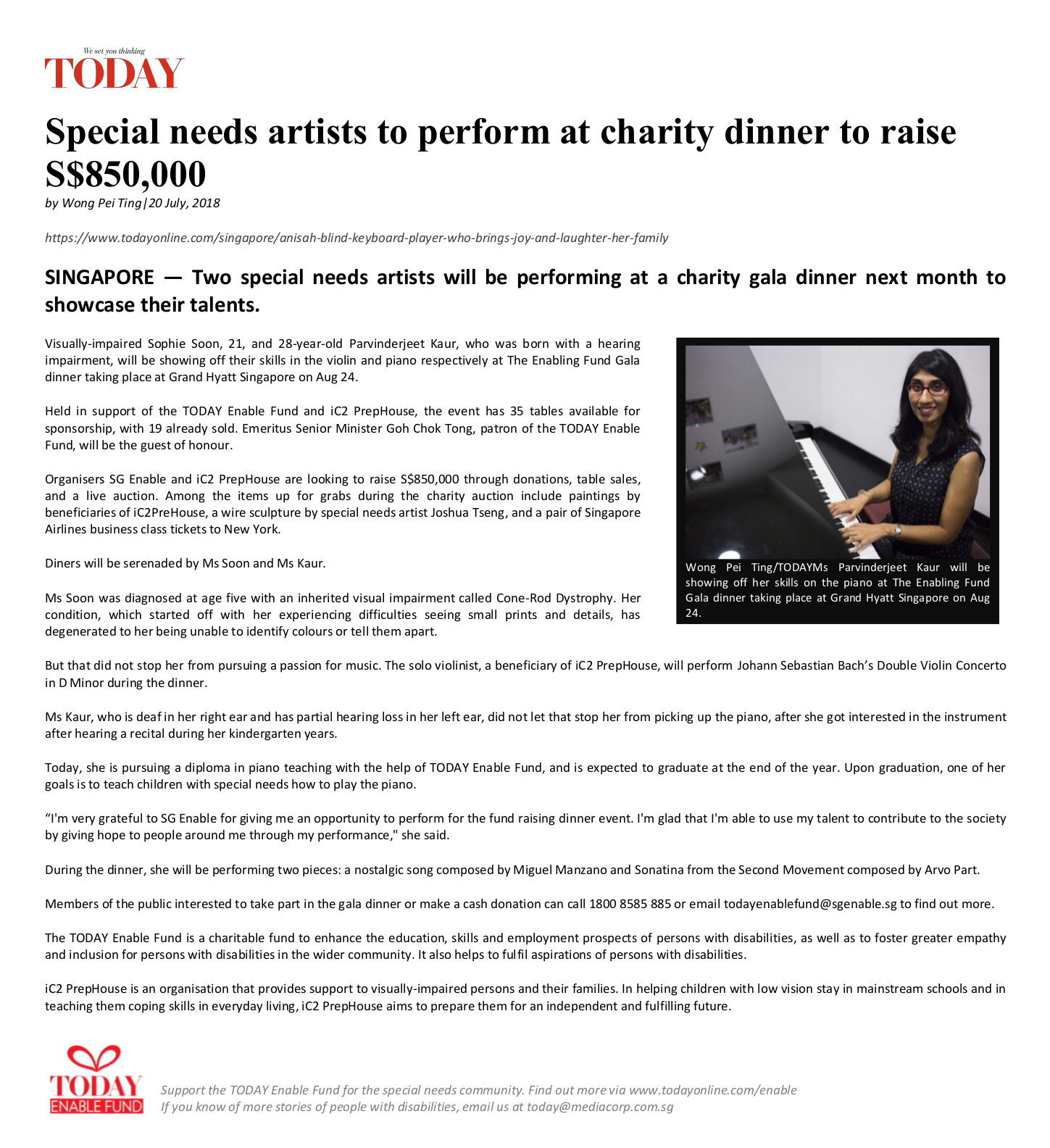 TODAY Online
July 20, 2018
SINGAPORE — Two special needs artists will be performing at a charity gala dinner next month to showcase their talents. Visually-impaired Sophie Soon, 21, and 28-year-old Parvinderjeet Kaur, who was born with a hearing impairment, will be showing off their skills in the violin and piano respectively at The Enabling Fund Gala dinner taking place at Grand Hyatt Singapore on Aug 24.
Download PDF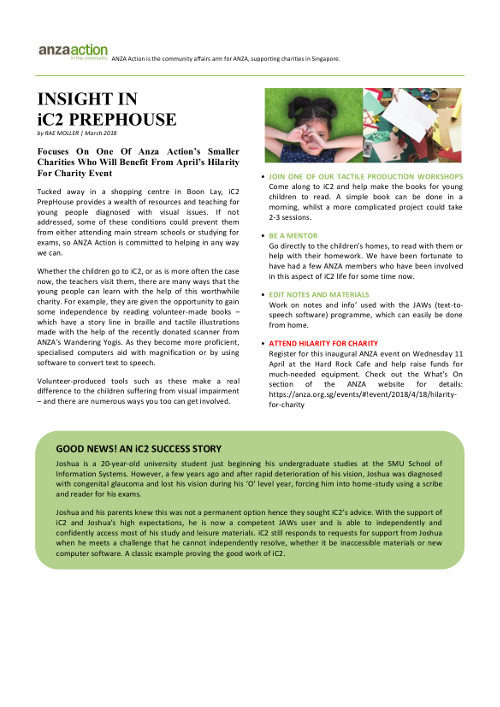 ANZA Action
March, 2018
Tucked away in a shopping centre in Boon Lay, iC2 PrepHouse provides a wealth of resources and teaching for young people diagnosed with visual issues. If not addressed, some of these conditions could prevent them from either attending main stream schools or studying for exams, so ANZA Action is committed to helping in any way we can.
Download PDF