Jamuna Rani Govindaraju
Executive Director
Jamuna is the Executive Director at iC2 PrepHouse and she joins us with 23 years of experience of working with the children and youths in Singapore, Jakarta and Australia.
She started off her career as a primary school teacher with Ministry of Education. After completing her stint with MOE, she worked with AWWA (TEACH ME Services) for 6 years integrating the physically challenged in mainstream schools. She then moved on to work in Jakarta with the PSB Singapore School. Upon returning from Jakarta, she worked in Singapore in Institutes of Higher Learning, MDIS and SIM holding management positions for 5 years. She holds a Bachelor of Arts majoring in Economics and Statistics from National University of Singapore. She completed her Post Graduate Diploma in Education from National Institute of Education. She completed her Master of Education specialising in Educational Management with The University of Melbourne and graduated with a first class honours.
She helped organised the major fund raising events for iC2 PrepHouse in 2015, 2017, 2018 & 2019. She helped secured grants from Tote Board Enabling Lives Initiative (TBELI) for the Counselling Services of the Visually Impaired in Singapore and Assistive Technology Assessment and Training for the visually impaired in Singapore. She has successfully secured funding from Community Foundation of Singapore, Seattle Foundation, Community Chest Charity Support Fund, St. James Wealth Management and Macquarie Bank.
She recently attended UNCPRD (United Nations Convention on the Rights of Persons with Disabilities) in Geneva from March 18, 2019 to March 22, 2019 and the 7 Skills for Public Leaders Workshop at Lee Kuan Yew School of Public Policy from April 9, 2019 to April 12, 2019. In 2020, she attended SSI Expert Series: Impact Strategy, Evaluation and Management for Non-Profits at INSEAD Singapore.
She is enthusiastic about working in a field that she is fervent about and feels honoured to be an important part of the growth and development of iC2 PrepHouse.
Amity Norton
Consultant
Amity Norton joins iC2 PrepHouse with over 15 years of experience in working with children with visual impairments both in local schools and in early intervention programs in America. She is a Teacher of the Visually Impaired and a Certified Orientation and Mobility Specialist. She received her Master's in Education from the University of Louisville (Kentucky) in 2004 with a Master in Education (Special Education), Visual Impairments. While working in the public schools, Amity worked with students ranging from ages 3-21 providing assessments, teaching Braille and Assistive Technology, working with various service providers and adapting curriculum for the students in the mainstream.
Through all the interactions with parents and teachers, Amity realized she was missing a piece of instruction for children with visual impairments and that was independence both at home and at school. So, in 2010 she enrolled in the Orientation and Mobility program at the University of Louisville (Kentucky) and completed her 2nd Masters in Education (Special Education), Orientation and Mobility in 2011. Since then, she has been working to help school-age students gain independence using the long, white cane for independent travel, daily living skills for independent living, as well as spatial awareness and concept development, particularly for children under the age of 5.
Amity is passionate about working with children with visual impairments and has a love for those with multiple disabilities and Cortical Visual Impairment (CVI). She has attended numerous training courses by Dr. Christine Roman-Lanzty, a world leader in furthering understanding, assessment, and intervention strategies for Cortical Vision Impairment. Amity hopes to bring a greater understanding of CVI to Singapore and help these children receive appropriate intervention at home and in the local schools. She is excited to be working at iC2 PrepHouse and being a part of educating children with visual impairments in Singapore.
Lee Lay Hong
Vision Teacher
Lay Hong is a teacher of students with visual impairments, and graduated from the University of Newcastle, Sydney, Australia with a Master in Special Education, specializing in visual impairments in 2010. Her course was undertaken at the Renwick Centre of the Royal Institute for Deaf and Blind Children (RIDBC) in Sydney.
She has a certificate in Reading and Writing English Grade 2 Braille from the Royal National Institute of Blind People (RNIB) allowing her to teach Braille to children and adults with visual impairments.
In addition to providing itinerant services to students with visual impairments in mainstream primary and secondary schools, as well as home services for early intervention, she has also been a part-time supervisor with the National Institute of Education (Singapore) for the Allied Educator (Learning and Behavioral Support) practicum module since 2008.
Prior to specializing in visual impairments, she was a trained teacher with the Ministry of Education, teaching in mainstream secondary schools. She was also a part-time supervisor for trainee teachers from the NIE between 1996 and 1998, and a part-time tutor at the National University of Singapore, Department of History in 2002.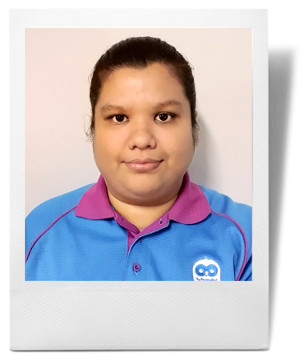 De Silva Natasha Theresa
Assistant Vision Teacher
Natasha is an assistant vision teacher for students with visual impairment. She graduated from Georgia Southern University in partnership with the Psychotherapy Association of Singapore with a Graduate Diploma in Counselling and Psychology in 2014. In 2016, she completed her Graduate Certificate in Education – Vision Impairment with Flinders University. She has attained a certificate of completion in both Module 1 and 2 of the Unified English Braille (UEB) online program from the Royal Institute for Deaf and Blind Children (RIDBC).
When Natasha was a trainee vision teacher, her love for assistive technology (AT) developed as she worked closely with many students who uses various AT devices for their daily living or school. Observations of how her older students moved so quickly on their computers with a screen reader propelled her to learn the software. She has completed the Freedom Scientific – JAWS Certification in 2017 which certifies the user's knowledge and proficiency in using the software.
Prior to working at iC2 PrepHouse, she was an Allied Educator for Learning and Behavioural Support (AED – LBS) in a Primary School. During her time as an AED LBS, she had completed her Bachelor in Science (Major in Social Science) with Colorado State University in 2011 and a Diploma in Special Education from the National Institute of Education in 2012. Natasha has learned through her job that every child is different and talented. She is able to work with children who have varying learning disabilities. After leaving her job as an AED LBS, she felt that she wanted to be specialised in teaching children with special needs. Thus, leading her to iC2 PrepHouse where there is a fulfilment in her career development as every day there is something to learn from and look forward to.
Alyssa Chia
Trainee Vision Teacher
Alyssa is a trainee vision teacher of students with visual impairments. She completed her Bachelor of Arts degree in Psychology from National University of Singapore (NUS) and Specialist Post-graduate Diploma in Special Education (SPDS) from National Institute of Education (NIE).
She has obtained certification in both Module 1 and 2 of the Unified English Braille (UEB) code from the Royal Institute for Deaf and Blind People (RIDBC) Renwick Centre.
Prior to teaching students with visual impairments, she was working with students with Autism for 5 years. She hopes to improve the lives of her students through empowering them to self-advocate and increasing accessibility in their learning environments.
Karis Ng Seok Chin
Admin Executive