Reach out to the visually impaired community!
Your generosity and support will help a low vision child to learn, be independent and live a meaningful life.
Children with visual impairments have unique and diverse needs which cannot be met by casual and generalized programmes. iC2 PrepHouse is a resource centre which aims to provide professional advice and structured programmes for children with visual impairments, including low vision.
Set up as a Singapore charity organization in October 2012, iC2 PrepHouse aims to help parents and families understand and cope with the changing needs of children with visual impairments by offering counsel, assessment, and guidance from trained professionals such as vision teachers and orientation and mobility instructors. Through structured educational and rehabilitative programmes, we can empower and enable the visually impaired individuals to live confidently and independently and enrich their lives and their families.
Your donation to the blind charity will greatly impact the lives of those who are visually impaired in Singapore. Find out below how you can contribute today.
Our programmes for children with low vision are :
For Your Donation Online,
You Can Donate Via
Our Online Fundraising Campaign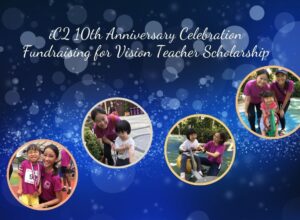 Vision Teaching is a niche segment in the social service, there is a lack of qualified, trained local vision teachers in Singapore. The centre has currently only two trained vision teachers.
To provide continued quality support to meet the growing needs of the visually impaired community in Singapore, our long-term goal is to train and develop a local pool of vision teachers. We provide scholarship for our teachers in the Graduate or Master programme in Visual Impairment with reputable universities worldwide, such as Australia and the United States of America.
Course of Training                Cost
Masters                                $60,000 for 2 years
Graduate Certificate            $30,000 for 2 years
Masters                               $30,000 for 1 years
Graduate Certificate            $15,000 for 2 years
Any small amount of contribution will be channelled to this scholarship fund to reach our target of $250,000. With this amount, we can train 3 teachers for masters programme and 2 teachers for graduate certificate programme